Do you like vintage dresses? If you do, write down these date on your agenda because Susi Sweet dress market is back for this fall season!
This time the date is in Casa Capell: Rambla del Prat 27, Barcelona on Friday 4th of October (from 16:30 to 21h) and on Saturday 5th of October (from 12h to 21h). Metro L3 Fontana (green line).
If you haven't gone to any of her markets you should because you will fall in love with the atmosphere and the beautiful clothes!!
Susi sweet dress market will be in Madrid as well the from the 18th to the 20th of October but the place and times are yet to be confirmed.
See you there!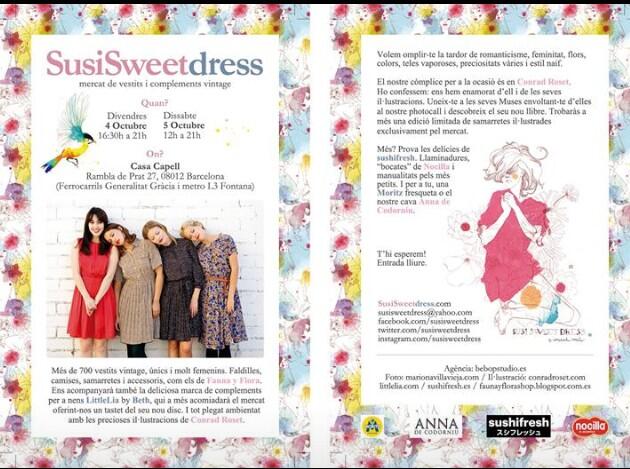 ¿Te gustan los vestidos vintage? Pues toma nota de estas fechas porque el mercado de Susi sweet dress ya está aquí de nuevo para la temporada de otoño.
Esta vez la cita es en Casa Capell: Rambla del Prat 27, Barcelona. El viernes 4 de octubre (de 16.30 a 21h) y el sábado 5 de octubre (de 12h a 21h).
Si todavía no has asistido a ninguno de sus mercadillos, deberías pasarte por allí. Te quedarás prendada del ambiente y de la ropa tan bonita que encontrarás!!
El mercadillo de Susi sweet dress también pasará por Madrid los del 18 al 20 de octubre, pero el lugar y el horario están por confirmar todavía.
¡Nos vemos allí!
M/